About the Program / How to Join
Welcome to the Teton Nation, an Adventure Guides association serving the northern area of Broward County, Florida. The goal of this program is to create opportunities for fathers and sons to spend quality time together in activities that will build strong bonds between parent and child, and create lasting memories that will ensure you remain 'Pals Forever'. There is a parallel organization, the Seminole Nation, focused on Father-Daughter relationships.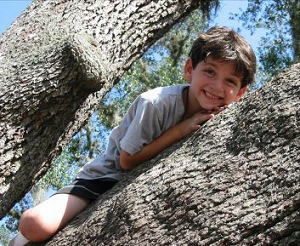 Adventure Guides (formerly Indian Guides) differs from scouting, sports teams, and many other activities because it is specifically intended to be a parent AND child organization. Our members join the program specifically because father and son want to spend more time together. This program provides a wealth of opportunities and settings to do so. In addition to forming strong parent/child relationships, the program also provides:
Experiences to see things and do things you otherwise might not: camping in the Everglades, canoeing a wild and scenic river, horseback riding around Sunset Lake, sifting for fossil teeth of giant whale sharks…..
Opportunities to meet other parents and children and make lasting friendships. To join in a large circle of friends you have much in common with and will enjoy sharing with (parents as much as kids)
Chances to learn more about where you live — to see the big and little places that make Florida special, including Lake Wales, Arcadia, Yumatilla, Fruitland Park, Fish Eating Creek, and many more.
The success of the program hinges on the continued commitment of fathers to expend time and effort. Once again this is a parent AND child activity. It is an ongoing commitment to set aside time for Tribe and Nation events, as well as projects you and your son have together. As with anything you belong to, the more more you put in to it as a participant, the more you get out of it. For those willing to make a bigger commitment, volunteer positions as a Tribal Chief or Nation Officer can be very rewarding.
The program is open to boys, Kindergarten through 6th grade (or whenever – some boys have driven their dads to campouts), and their Dads. There is a brief registration form. The annual program fee is on a per-family basis – regardless of how many kids you have in the program. To learn more about the North Broward program and how you can join, contact:
To learn more about the North Broward program and Adventure Guides,  see our Nations Contact information
For a personal perspective on the program – here is a letter to prospective Dads from our recently retired chief, Steve Kelton (Bull Gator):
Come Join the Adventure Guides "Pals Forever"
Being a parent has brought more satisfaction than I ever could have imagined. One of the greatest things I have done to bond with my son has been joining the North Broward YMCA Adventure Guides. I was invited to join the Iroquois Tribe by my neighbor John Tucker. I was a little apprehensive at first because of the travel requirements of my job, and already being an assistant coach for my son's sports teams. After the first meeting I knew that I had found a great group of people all with the common thread of wanting to spend time with their boys.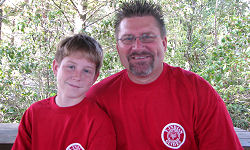 The individual tribes typically meet once a month where tribe business is discussed, and the fathers and sons complete a craft together. In addition, there is usually a tribe event monthly. Some of the monthly weekend day Iroquois events have included: Bike rides in the Everglades, IMAX movies, local fishing trips, boat rides, and visiting Boomers. We have slept beneath a Saturn V rocket at NASA's Cape Canaveral facility, and slept in Chickees on the Seminole Reservation.
The Nation also hosts a yearly cabin campout at the Circle F Dude Ranch in Lake Wales, Florida. At the Circle F weekend there are war games where father and sons team up to score points and compete with the other tribes for the coveted "Coop Stick". Winning the "Coop Stick" gives that tribe bragging rights for the entire year. Typically, the games are lake based games such as the leaky bucket race, and sandcastle building race. In addition, we go horseback riding and launch model rockets. The weekend culminates in the bonfire ceremony which the kids love.
Some of the events include the entire family and members can participate as much or as little as they wish. Camping experience ranges from first timers to experts.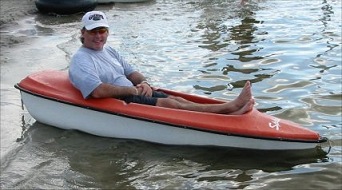 The YMCA Indian Guides was founded in the 1940s. The Iroquois Tribe that My son and I belong to is part of the Teton Nation. The Nation is currently made up of tribes from across North Broward County. The number of fathers and sons varies from tribe to tribe. The Iroquois tribe currently has about 20 families.
In the recent past, the number of members in the Teton Nation have begun to dwindle. We have had numerous tribes "mature out". The age requirements of the program are between 5 and 14. Once the children have reached 14 years of age, they are recognized in a special ceremony and legend says that the bond they have built with their fathers by that age will last their lifetime. We owe it to our kids not to let this amazing bonding experience die out. When I asked my son Zack what he likes best about the Indian Guides he says, "I like going camping and hanging out with you", and his best friend Kyle Tucker chimes in "I like the crafts because they are cool". A bond that will truly last our lifetime.
–Steve Kelton